NGP Board Chair
Francys Johnson
Francys Johnson
Francys Johnson is Chairman of the Board of the New Georgia Project. He succeeded NGP's founder, Stacey Abrams, and Senator Raphael Warnock in this organizational governance role. The New Georgia Project and its affiliates are power-building organizations aimed at strengthening Georgia's democracy. NGP (501c3) educates and registers the roughly 700,000 eligible (but unregistered) African American, Latino, and Asian American voters, registering more than 250,000 new Georgia voters since 2014.
Francys, a noted trial attorney, pastor, and educator, is a progressive thought-leader on race, equity, and understandings of power in public policy from Statesboro, Georgia. A graduate of the Georgia Southern University and the University of Georgia School of Law, he has taught courses on Criminal Law; Constitutional Law; Race and the law; and the Civil Rights Movement. He is partnered with Dr. Meca Williams-Johnson, an educational psychologist and professor. They have three sons, Thurgood Marshall Joshua, Langston Hughes Elijah, and the late Frederick Douglass Caleb. Francys lives by the command of Micah 6:8 to love mercy, do justice, and walk humbly.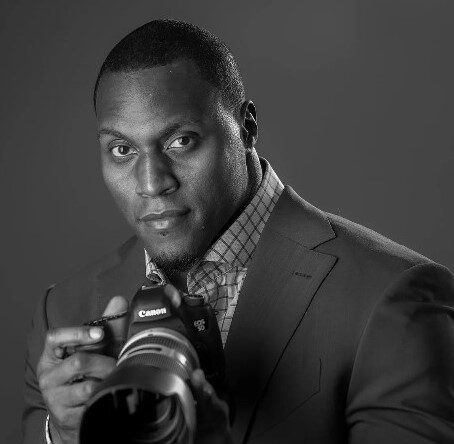 NGP Board Member
Takeo Spikes
Takeo Spikes
Takeo Spikes is the CEO of Behind the Mask Media and creator of the award-winning podcast, Behind the Mask. He is also a sports analyst and is well-known as a former National Football League linebacker with 15 years in the National Football League. Spikes was a first-round draft pick, the 13th player selected overall in 1998, a two-time Pro Bowl selection, and a First-Team All-Pro.
Takeo received his Bachelor's degree in liberal arts at Auburn and M.B.A. from the University of Miami. In 2016, he published his first book, Behind the Mask, a collection of intimate short stories and photographs including some of the greatest linebackers to ever play in the NFL.
Chief Executive Officer
Nsé Ufot
Nsé Ufot
Nsé Ufot is the Chief Executive Officer of the New Georgia Project (NGP) and its affiliate, New Georgia Project Action Fund (NGPAF). Nsé leads both organizations with a data-informed approach and a commitment to developing tools that leverage technology to make it easier for every voter to engage in every election. Nse and her team are also developing Georgia's home-grown talent by training and organizing local activists across the state. She has dedicated her life and career to working on civil, human and workers' rights issues and leads two organizations whose complementary aim is to strengthen Georgia's democracy. Under Nsé's leadership, NGP has registered nearly 600K Georgians to vote."
Nsé was born in Nigeria and raised in Southwest Atlanta. She attended the Georgia Institute of Technology, where she received a Bachelor of Science degree in psychology in 2002. She then attended the University of Dayton School of Law, where she received her Juris Doctor degree. She recently was recognized as one of Glamour Magazine Women of the Year for 2021 as well as being named one of Time's 100 Next.
Chief Operations Officer
Kendra Davenport Cotton
Kendra Davenport Cotton
Kendra Davenport Cotton is a seasoned professional with more than 20 years of experience building and cultivating relationships in order to advance a favorable public image and positive strategic agenda for the individuals and organizations that she serves. Kendra is currently the chief operating officer for New Georgia Project, Inc. and New Georgia Project Action Fund. She assumed this role after leaving her position as the campaign manager for a US Senate race. Kendra was the founding executive director of Rep GA Institute, Inc., Georgia's statewide c3, nonpartisan leadership training HUB, as well as its c4 arm Represent Georgia Action Network. Prior to this role, she was the campaign manager for the successful Georgia Association of Educators' Vote "NO" on Amendment 1 statewide ballot initiative during the November 2016 election cycle. Once a 16-year resident of North Carolina, Kendra was the policy director for the NC State Treasurer's office under Janet Cowell where she held primary responsibility for leading the office's education policy agenda. Before joining the Treasurer's Office, Kendra completed a five-year tenure at UNC-Chapel Hill, serving first as the associate director of the Center for the Study of the American South and ending as the Project Director for the university's Community-Campus Partnership initiative.
A staunch public-school and voting rights advocate, Kendra is a Diamond Life Member of Delta Sigma Theta Sorority, Inc. and resides in Powder Springs, GA with her husband Michael and their three children – a daughter Jarah, a Harvard University junior; and two sons Kael, an 11th grader and Rhys a 9th grader.
Chief Legal Officer
Aklima Khondoker
Aklima Khondoker
Aklima Khondoker is the Chief Legal Officer at the New Georgia Project, a nonpartisan, nonprofit organization dedicated to increasing civic participation in Black and brown communities through voter registration, community organizing, advocacy, and litigation.
Prior to joining the New Georgia Project, Khondoker worked as a Staff Attorney and the Senior Manager for the Voting Access Project at the ACLU of Georgia, a project she created to open pathways to the ballot through effective litigation and advocacy.
During the 2020 election, Khondoker worked as the Georgia State Director at All Voting is Local, a campaign of the Leadership Conference on Civil and Human Rights. While there, Khondoker increased voting access through targeted initiatives, including adding ballot dropboxes statewide, opening early vote sites in communities of color, and advocating for equitable ballot access through effective election administration locally and nationwide.
She serves on the board of the Georgia Association of Black Women Attorneys, and is a member of the Gate City Bar Association, the Georgia Association of Women Lawyers, and a contributing member of the National Federal Bar Association.
Khondoker holds a B.A. from Stony Brook University and J.D. from the John Marshall Law School in Atlanta. She is committed to local and national initiatives that both serve the community and gives everyone a voice through their vote.
Chief Technology Officer
Gabriel Posey
Gabriel Posey
Gabriel Posey is the Chief Technology Officer of New Georgia Project. His role is planning and executing the numerous technology initiatives for NGP.
Gabriel previously lived in Nashville where he worked for DigiDems, a progressive political technology group.
He once shook Barrack Obama's hand.
Chief Development Officer
Candice Drummond
Chief of Field and Organizing
Keron Blair
Chief Financial Officer
Randall Frazier
Loose the Chains Director
LK Pendleton
LK Pendleton
LK Pendleton is Director of Loose the Chains, the faith initiative of New Georgia Project which partners with faith leaders to strengthen justice work in their community.
LK has served in pastoral ministry as an ordained elder for over twenty years in the United Methodist Church. While serving as president of the Columbus, Georgia branch of the NAACP, she led several successful efforts in the city. She has received several awards and recognitions for her work in the church, community, and academy. She continues to serve as a coach for pastors seeking ordination into the United Methodist Church.
LK is a graduate of Clark Atlanta University, The Interdenominational Theological Center (ITC), Atlanta, Georgia and Columbia Theological Seminary, Decatur, Georgia. She is affiliated with the Alpha Kappa Alpha Sorority.
LK loves music and considers herself a bootleg musician.
Director of Membership &
Volunteerism
Roderick Smith
Director of Institutional Giving
Connor Cook
Communications Manager
Paul Glaze
IT Manager
Brittany Bengert
Brittany Bengert
Brittany Bengert is IT Manager at New Georgia Project. As a member of the Technology Department, she assists each team member in transforming and enhancing our collective technology footprint to better engage with the communities we serve.
Brittany previously served in IT as a Project and Program Manager before coming to the New Georgia Project. Brittany has a Bachelors in Political Science from Kennesaw State University, a Masters in Political Science from American Military University, and a Masters in Strategic Public Relations from The George Washington School of Political Management. Her favorite movie is My Cousin Vinny, and she believes the day after the Academy Awards should be a holiday.
Senior Writer
Annie Lipsitz
Annie Lipsitz
Annie Lipsitz is Senior Writer for New Georgia Project. She is responsible for developing written collateral and messaging that amplifies NGP's work and impact.
Annie grew up in Atlanta and previously lived in Washington, DC where her multifaceted career included a short stint on Capitol Hill, years as a nonprofit fundraiser, and more than a decade as a Leadership Team member and camp counselor with Girls Rock! DC, which she co-founded.